The Best Wintertime Events in Michigan
The fun doesn't stop because of a little cold. In Michigan we celebrate with Ice & Snow Festivals. Find all of the Best Wintertime Events & Adventures and in Michigan right here. Enjoy Life Michigan Life!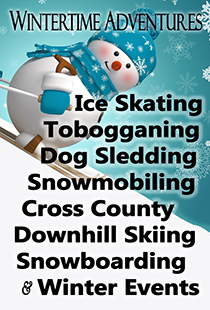 Wintertime Events in Michigan
Organized by Blue Key National Honor Society since 1934, Winter Carnival started in 1922 and has grown into one of the biggest annual winter celebrations in the nation.
Watch the excitement as award-winning sculptures use chainsaws, chisels, and blowtorches to create over 50 stacked ice sculptures in downtown Sault Ste. Marie. Two days of ice will produce amazing carvings!
Winterfest is a full weekend of winter fun in Grand Haven, Michigan during the last week of January. The snow is upon us, and with Michigan's winters being long and cold, this is a perfect time to get out and be active. There are plenty of activities to keep everyone warm and having a great time.

Established in 1965, Kalkaska Winterfest is an annual celebration of wintertime activities and the true "up north" spirit. Each year, Kalkaska Winterfest hosts a slew of family-friendly attractions during the weekend-long event.
Friday, January 17, 2020 – Sunday, January 19, 2020
Annual Fire & Ice Festival in Downtown Rochester is back for another year of family fun and festivities. Enjoy the ice sculptures along Main Street, tube sledding hill, ice skating rink, dog sled rides, snowshoeing and cross-country skiing, fireworks, food trucks and tent and so much more!
Beulahs Winterfest is not your normal winterfest, this festival looks for the quirky fun-loving events that you don't find everywhere else. Check out this list of events and attractions you will find:
Plan now to attend Zehnder's Snowfest!
Zehnder's Snowfest features:
2nd & 3rd weeks in February
Pentwater's Winterfest is the second and third weeks in February and includes a fishing tournament, the Snowman Scram 5K and opportunities to go cross-country skiing in the Pere Marquette State Forest.
Echo Valley Kalamazoo's Premier Winter Sports Park where you race 60 mph down one of eight ¼ mile long tracks on ultra-fast toboggans. Enjoy the 500-foot tubing hill. The warming lodge offers a fireplace, snack bar and viewing platform. Tubes and toboggans are free with admission. Ice skate rentals are available.
Ice Competitions - Friday & Saturday
Watch carvers magically turn frozen blocks into works of art! Friday evening the Professional Individual Competition will run from 5:30pm-7:30pm along Pleasant Street. On Saturday, the Professional Team Competition will run from 8am-4pm along State Street.
The Michigan IceFest in Munising, Michigan features numerous clinics ranging from Rigging and Rescue to Top Rope Anchor classes.
Saturday, February 1st, 2020
Come join us for the Annual International I-500 Snowmobile Race and experience all the thrills of NASCAR on a one-mile oval ice track. The I-500 is the biggest event in the Upper Peninsula and in the entire snowmobile-racing world. When drivers accelerate to speeds exceeding 100 miles per hour on the straightaways, your heart will race.
The UP200 is one of the top 12-dog mid-distance races in the Midwest, as well as being an Iditarod qualifier. The UP200 trail covers 230 miles of challenging terrain from Marquette to Grand Marais, Michigan and back again through forested land and near-wilderness. Mushers face hills, creek crossings, deep snow, and isolated trail.
JANUARY 31 & FEBRUARY 1, 2020
The second annual Let's Chill Winter Fest features activities for individuals of all ages. The winter festival will span the downtown shopping area, Wilson Park and Edgetown.
Activities include a chili cook-off, the area's only Wine Walk, indoor and outdoor winter games, ice carving, an Artisan tent, food, and much more!.
Great family fun during the winter months! Groomed specifically for snow tubing, riders will speed down one of many thrilling 16 ft wide sculpted snow lanes as you drop 50-60 feet over a course of 500-600 feet. A magic carpet uphill conveyor lift transports riders to the top of the hill.
Looking for the best Toboggan runs in Michigan? Check out The Toboggan Run at City Forest in Midland Michigan each run is over a tenth of a mile in length!
There is a vehicle entrance fee at Burchfield Park. For current winter sports conditions, please CLICK HERE for up to the minute information.
The cool streets of South Haven will be blazing during the HOTTEST winter festival around!
Downtown Tecumseh welcomes you to enjoy the weekend winter festivities!
Event Sponsors: TLC Community Credit Union and Tecumseh's Central Business Association
Dueling Carvers Sponsored by: Republic Services
There's no time for the Winter Blues in the Alpine Village! Our community is bustling with frosty fun this February, as we present the Annual Alpenfrost.
Pages