The Best Snowmobiling Adventures in Michigan
The perfect snowmobile trails are waiting, so load up your sled or rent one enjoy the adventure of exploring Michigan by Snowmobile. From a day trip to weekend excursions everything for both the adventure seeker and the adventurous family. Find all of the Best Snowmobiling Adventures and Snowmobiling Locations in Michigan right here. Enjoy Life Michigan Life!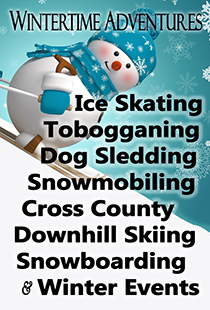 Snowmobiling in Michigan
Alpine Snowmobile Rentals can get you out on the 300+ miles of groomed snowmobile trails in the Gaylord area with a high performance Polaris snowmobile. We are located just feet from the groomed snowmobile trails, so you can rent your sled and go in the snow.
Snowshoeing opportunities are abound in Ontonagon County with thousands of acres of snow covered back country wilderness to explore. Long a popular winter activity in the Upper Peninsula, visitors are finding snowshoeing an excellent way to enjoy winter's splendor in Ontonagon County.
Come join us for the Annual International I-500 Snowmobile Race and experience all the thrills of NASCAR on a one-mile oval ice track. The I-500 is the biggest event in the Upper Peninsula and in the entire snowmobile-racing world. When drivers accelerate to speeds exceeding 100 miles per hour on the straightaways, your heart will race.
Once the snow flies we start snowmobile rentals in December and running through March, weather permitting. Get into the mud and join us during April through October's scenic fall colors with County Wide Adventures side-by-side rentals.
County Wide Adventures is your premier northern Michigan Polaris adventure outfitter for snowmobiles and side-by-sides. Put yourself behind the throttle and hit the trails with a new model Polaris or gear up with our great selection of seasonal riding gear and accessories.
Open All Year - 9am to 5pm Daily
Upper Peninsula Antique & Vintage Snowmobiles
"Where the history of snowmobiling comes to life."