Pictures and Events with Santa Claus
Every holiday season you look forward to seeing your child's smile when they see Santa Claus for the first time of the year. We also love to see Mrs. Claus and the jolly elves together they make events and holiday cards more festive. Because of this we search Michigan to locate the best locations to see Jolly Ole' St. Nick and friends. We wish you a Merry Michigan Life!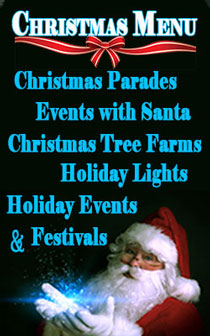 It's SANTA…and he's at the farm! Visit with the real Santa Claus at Gull Meadow Farms this December. We've created a beautiful display of Christmas decor as you wait in line to see Santa. Pre-purchase your date/time to see Santa this year to help us keep guests spaced out and the wait for Santa much quicker.
November 27 - December 19, 2021
CLOSED Mondays and Tuesdays
Wednesdays – 5pm-7pm
Thursday: 5:30pm-8pm
Friday: 5:30pm-9pm
Saturday: 5pm-9pm
Sunday: 5pm-8pm
*Walk Through the Lights is open during business hours, however, we think they are best viewed anytime after s
You are not going to want to miss Gull Meadow Farms "Walk through the Lights" experience. They transformed greenhouses into a beautiful walk-through Christmas experience each with a different theme.
We are a fourth generation family farm providing fresh Christmas trees and wreaths to the local area for over 55 years. We've been busy this year working to improve your experience on the farm. New this year, you'll be able to stay out of the weather in the big green barn, enjoy a hot cider or coffee and doughnut.
Come out to see the Holiday Lights at Shawhaven Farm. Ride past a beautiful Hanukah lights display, continue through the streets of the village all decorated up in the holiday spirit. See Santa coming down the chimney. Watch the animated light show to the music of the holidays.
Awesome night in Lexington. Does not get anymore Americana than this night.
Santa, chestnuts, tree lighting, carols. A great way to kick off the holiday.
Tired of battling the mall crowds? Why not bring your child to Rockford to visit Santa – all in the idyllic setting of downtown. Kids can give Santa their wish lists, and enjoy free hot cocoa and cookies!
The City of Kalamazoo's Annual Tree Lighting Ceremony will again be held at Bronson Park, the heart of Kalamazoo. The Mayor, City Commissioners, City Manager and Santa will all be on hand to read 'Twas the Night Before Christmas', light Kalamazoo's Christmas trees, and kickoff what is sure to be another great holiday season!
Take a lantern-lit journey into a living snow globe filled with live music, skating, fireworks and tons of winter wonder during America's premier celebration of the season.
The Holidays are always a magical time for everyone. This is an especially magical time at Peacock Road Family Farm.
December 4, 2021 @ 11:00 am - 2:00 pm
The jolly man in the red suit will be making an appearance in the Chamber's Annual Santa Parade. The parade winds through downtown Rockford. The jolly man in the red suit makes Rockford one his first stops on his world tour. More than 60 floats line the downtown streets to welcome Santa Claus.
The first weekend in December we hold our annual Festival of is Grass Lakes annual Christmas Festival of Lights. Enjoy breakfast with Santa; carriage rides to the Coe House Museum. The Coe House is open and decked out for the season. The United Methodist Church has their annual craft and bake sale, Santa makes a visit to the Depot.
Saturday, December 4, 2021 2-5 p.m.
There is something for everyone at the popular annual Winter Glow event – East Lansing's free, outdoor winter festival in downtown East Lansing with a wide variety of fun-filled seasonal activities.
Santa Is Coming and will arrive in Gaylord for the Santa Light Parade in downtown Gaylord. Activities under the pavilion on court start at 5:30pm Hot chocolate, coffee, food, photo booth, live music,kids activities, sleigh rides, and more!!!
Remember to bring your cameras!!
Tuesday, Nov 30, 2021 at 5:30 PM
Santa Claus arrives in Downtown Holland during the annual Parade of Lights, escorted by 75 floats, trucks, antique cars, walkers and marching bands...all decked out from top to bottom in thousands of sparkling lights! This brightly lit holiday procession is fun for the entire family and a holiday tradition for the entire community!
December 4, 2021 at 11am-4pm
A North Pole rumor, that has made it all the way to Saugatuck, indicates that Santa will be making a special appearance! Families can enjoy the return of Santa's Workshop (11am-4pm) at The Annex: 220 Water Street, Saugatuck. There will be photo opportunities with Santa plus kids craft projects, tree decorating, music, refreshments and more!
The Coopersville & Marne Railway Santa Train returns with decorated, heated cabs and a 90-minute round-trip ride. Children can sit with Santa and receive a present, and hear the Storytelling Princess read "The Polar Express." The train, which seats 250 people and has an on-board bathroom, departs from the station in downtown Coopersville
Nov. 25 thru Dec. 31, 2021
When: Nov. 25 thru Dec. 31, 2021
OPEN EVERY DAY INCLUDING HOLIDAYS
Where: Michigan International Speedway
US-12 Entrances only, 12626 US-12, Brooklyn, Michigan 49230
TWO US-12 Entrances:
WEST bound use Lot 8 Entrance
EAST bound use Graves Farm Entrance
Thursday, December 2, 2021 at 6 p.m.
Celebrate the magic of the holiday season at the Annual 'Winter Snow Fun' Holiday Parade and Annual City of Marquette Tree Lighting. Bundle up with friends and family as illuminated floats, tinsel-strewn trucks and colorful carolers transform Third Street into a magical scene from the North Pole.
Celebrate the magic of the holiday season at the fifth annual 'Winter Snow Fun' Holiday Parade in Marquette's Downtown District. Bundle up with friends and family as illuminated floats, tinsel-strewn trucks and colorful carolers transform Third Street into a magical scene from the North Pole.
Excitement surrounds this time of year as the annual Christmas and Holiday Traditions Around the World brings the glow of 300,000 lights, strolling carolers, horse-drawn carriage rides and more than 40 international trees and displays.
America's Thanksgiving Parade® presented by Art Van, one of the country's oldest and most celebrated Parades, will step off at 9:00 a.m. on Woodward Avenue and Kirby and end at Woodward Avenue and Congress. Hundreds of thousands of parade-goers will be watching as the Parade makes its way down Woodward Avenue.