The Best Christmas Tree Farms in Michigan
The Best Christmas Tree Farms in Michigan
One of our favorite holiday events is the day the family travels to the Christmas Tree Farm to find this years tree. We enjoy hot chocolate and apple cider, bundle up warm so that we can spend as much time outdoors as possible. We know some people pick from the pre-cut trees but our family tradition means we go into the field to locate the one that is just right for our home.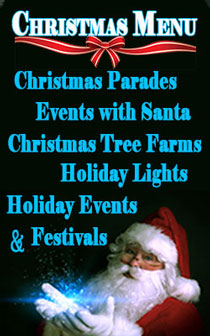 Our Cut-Your-Own Christmas Tree Farm always opens the Saturday before Thanksgiving 9-5 daily with wagon rides to and from the plantation. We have over 118 acres of spruce and firs.
Christmas trees, Fresh wreaths and roping. Hot drinks in the barn. Exotic animals.
The Christmas Season is an exciting time at Andy T's! We have a wide variety of trees and greenery items to decorate your home with, or honor a loved one who has passed. Poinsettias are a lovely way to bring that festive red color to your home, and wreaths bring cheer to your front door.
Christmas trees-you choose and you cut, shaking, tree wrapping, tree bags, Precut trees Christmas trees, tall trees are available, wreaths and garlands, live rooted trees, wagon rides, refreshments, Santa visits and photos Santa Claus every weekend. We also provide a venue for family events, Christmas Parties, Corporate outings and weddings.
Western's Tree Farm in Applegate Michigan is a 3rd generation family owned business for 60 years. In addition to Christmas Trees they make their own Wreaths, Garland, Porch Pots and Christmas Crafts. Enjoy a Horse drawn and tractor hayride, visit Santa, and check out their Craft Shop.
Choose from a variety of our trees:
Offering 20 acres of choose-&-cut or fresh pre-cut Christmas trees from the following varieties: Colorado Blue Spruce, Douglas Fir and Scotch Pine. Garland, wreaths and living trees also available. Saws, shaking and wrapping service. We may be small, but our well-groomed farm and beautiful trees are sure to keep you coming back.
Natural Tree Farm features White, Black Hills and Norway Spruce, and a number of concolor fir's . We also offer tree wrapping, fresh cut trees, and trees 9-feet and bigger. Open for the season the friday after Thanksgiving, and open weekends until Christmas. With appointments available during the week. 10 a.m to 5 p.m.
Located in southern St. Clair County near Macomb County, Michigan. We sell the Colorado Blue Spruce Christmas trees. All sizes are available up to 8 feet. Cut your own tree or select from our pre-cut trees. Saws and twine are provided. Free shaking and wrapping. Convenient tree carts for your tree, camp fires, and warming barn.
North Star has been a trusted name in the Christmas Tree industry for 75 years. We are family owned and operated and love nothing more than family traditions! We encourage families to start or continue the tradition of choosing and cutting a real Christmas tree.
We are located in the central Upper Peninsula of Michigan. We have 25 acres of sheared Spruce and Balsam available for choose and cut customers. Directions From Iron Mountain, Mi., take M-95 to M-69 east to Foster City. Turn North at gas station on Harry Peterson Road one mile.
The Red Barn Tree Farm is a Bennett Family adventure. It's something we've been slowly planning and working on for about 20 years. Now that we're finally up and going, we would like to invite you to come create some memories and become part of our Christmas Family.
Peacock Road Tree Farm has been selling trees since 1995. Prior to Ed buying the farm in 1985, it had been a hay, corn and bean farm.
In 1987, Mid-Michigan had a severe drought and every tree on the farm died. The next spring, Ed replanted the farm.
pumpkin patch-pick in the field, pumpkin patch- already gathered from the field, tractor-pulled hay rides,
Andy T's Farms offers Bonfire and Hayrides Information during the Summer and Fall. During the holidays come to Andy T's Farm to find your Christmas Tree and other items for your decorating needs.
Have you taken your family out to find the perfect tree? That's where the fun starts because everyone has an opinion on what makes the perfect tree.
The farm was purchased by the Leber family in 1904 and is a registered Michigan Centennial Farm. It has evolved from a typical turn of the century small family farm, to a dairy and hog farm, and now produces quality Christmas trees, exotic and unusual conifers, and corn.
Christmas trees-you choose and you cut, Shaking, baling, tree stands, tree disposal bags, Precut trees Christmas trees, wreaths and garlands, Tall (9ft+) trees, living trees (in containers), wagon rides. Open-from the day after Thanksgiving, weekends all day and Monday Friday from noon until dark.
Butler Tree Farm was established by Sam & Brenda Butler in 1998 to provide high quality Christmas trees; preserve the family tradition & American Heritage of choosing a real Christmas tree; provide a warm country atmosphere for family
Friday - Sunday: 9am - 5pm
Country Christmas Tree Farm & Gifts is a full service Christmas Tree Farm. Christmas Trees, Christmas Wreaths and boughs, Christmas decorations, saws provided, trees tied, sleigh rides
Whether it's a Christmas Tree that becomes part of your family holiday tradition, or a new addition to your landscaping and homestead, Stempky Nursery pride ourselves on quality work, healthy trees, customer service and an unrivaled Northern Michigan work ethic.
Treichel's Trees farm is presently growing 85,000 Christmas trees on 280 acres of land and offer a variety of sizes, shapes and species. We have sold our trees wholesale ever since we started farming. Our customers may do their own choosing or we will do it for them if they desire.
We are a fourth generation family farm providing fresh Christmas trees and wreaths to the local area for over 55 years. We've been busy this year working to improve your experience on the farm. New this year, you'll be able to stay out of the weather in the big green barn, enjoy a hot cider or coffee and doughnut.
At Pinecrest Christmas Tree Farm, we provide a beautiful selection of both U-Cut and Pre-Cut Christmas trees, hundreds of ornaments and an experience the whole family will love.
Tractor rides and Horse-drawn wagon rides are available on certain dates - check website for details.
Our 150-acre Choose-N-Cut is open 7 days a week from the day after Thanksgiving until just before Christmas. We have free popcorn and tractor-drawn wagon rides every weekend between Thanksgiving and Christmas, and free horse-drawn wagon rides and Santa Claus during the first two weekends after Thanksgiving.