Downhill Skiing & Snowboarding in Michigan
Downhill Skiing and Snowboarding trails are some of the most trilling in the country. Escape the ordinary winter fun with the excitement of extreme sports. Skiing can be for all ages with a number of bunny slopes that are family-friendly and just right for beginners everyone should enjoy a trip down the slopes of Michigan. Find all of the Best Downhill Skiing locations in Michigan right here.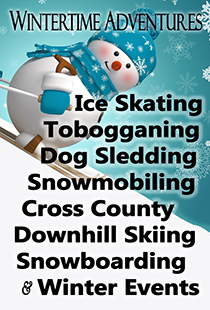 Downhill Skiing in Michigan
The best snow in the Midwest awaits you at Blackjack Resort. Our 200 average inches of snowfall, our state of the art snowmaking system and the exceptional attention to grooming will give you the superior skiing and boarding experience you're looking for.
Caberfae Peaks is conveniently located in Northern Michigan's snowbelt. The resort sits in relatively high elevation and is the perfect distance from Lake Michigan. As a result, the "lake effect" snow machine manufactures an average of 150+ inches of annual snowfall per year!
Indianhead Mountain Resort is a four-season resort offering 29 downhill skiing slopes, snowboarding and an average of 17 feet of snow per year. The village and resort facilities are located on top of the mountain overlooking the Ottawa National Forest.
Enjoy a great Family Atmosphere at a very affordable price. Our Ski Area offers Downhill Skiing, Snowboarding, Tubing, Snow Shoe Trails, and over 35km of Groomed Nordic Ski Trails. Learn to Ski or Snowboard with our Professional Snow Sports School.
Ski area with 25 runs and a 600 foot vertical. We ski five nights a week and have three terrain parks with three chair lifts and a bunny tow. Ski or snowboard lessons offered.
Located in Oakland County between Detroit and Flint, Pine Knob is your destination ski resort in Southeast Michigan. Whether you are a beginner or expert, family or individual, we are the place for you to enjoy the slopes this season.
Big Powderhorn Mountain Resort is ranked one of the Top 5 Midwest Resorts, Big Powderhorn Ski Area is located in Michigan's Upper Peninsula and offers 33 downhill trails,
Southeastern Michigan Ski Industry invites you come out and share our expertyly groomed trails perfect for both Skiing and Snowboarding.
Mont Ripley welcomes all snow enthusiasts. The ski area is owned by Michigan Technological University and sits in the middle of the cities of Houghton and Hancock. Mont Ripley is amazingly convenient and just minutes from great lodging, restaurants, microbreweries, nightclubs, and shopping.
From the beginning in 1957 Dorie and Nub Sarns knew that this hill in the great Michigan outdoors was going to be some place special. They cleared the trees and installed a double chairlift, and opened for business. In 1964 the slope "Crazy Otto" opened named after the groomer Otto Washburn.
Mount Bohemia in Michigan's Upper Peninsula has the longest runs with the highest vertical and deepest powder in the Midwest. This hidden secret is a true treasure for backcountry skiers and riders. The average snowfall in Michigan's Keweenaw Peninsula is 273 inches.
Crystella Hill is Crystal Falls' own little giant. Sledding, Snowboarding, and skiing, made possible by a dedicated group of Volunteers.
Norway Mountain is a ski hill & resort located in Michigan's beautiful Upper Peninsula. The average annual snowfall is 100 inches. There 160 skiable acres at Norway Mountain. This ski resort in Norway, Michigan has 500 feet of vertical fun. We are only 1 hour 40 minutes north of Green Bay, just over the Wisconsin border.
Eighteen runs with the longest at 1800 ft., two Terrain Parks with one fo the little kids and one for the big kids, equipment, group rates, discounts and child care. Top-notch ski school and popular racing programs.
60 downhill runs, our commitment to skiing is every bit as strong as it's always been. When snowboarding came along, we were quick to welcome new generations of riders to the slopes - and to make way for seven terrain parks where skiers and snowboarders alike could catch air and push winter's boundaries.
Welcome to Alpine Valley – Southeast Michigan's Mountain of Fun for the whole family! Imagine beautiful surroundings, 25 picturesque tree-lined slopes, 9 chairlifts, 4 rope tows, a magic carpet, and four terrain parks all rolled into the largest and most scenic ski area in southern Michigan and you have Alpine Valley

Pine Mountain is the choice to make when looking for a quick, family-friendly getaway that is close to home and doesn't involve breaking into the family piggy bank.
Every season is the right season to visit Treetops Resort in Gaylord Michigan! Treetops special features distinguish it as one of Michigan*s finest destination resorts.
Pages