Cross Country Skiing in Michigan
The Best Cross Country Skiing in Michigan
With amazing snow-covered trails Michigan is the best place to bring the family and friends for a winter outdoor sport that can be enjoyed by everyone. Glide through snowy trails and take in the sights that makes Michigan the best location for Cross Country Skiing. Find all of the Best Cross Country Skiing locations in Michigan right here. Enjoy Life Michigan Life!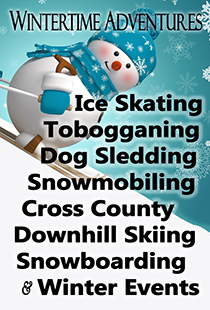 Cross Country Skiing in Michigan
Hickory Hills features 8 runs with 1 beginner, 5 intermediate, and 2 advanced runs that are serviced by 5 rope tows. Night skiing is available on 7 of the runs. Cross country skiers will find 4k of trails with a 1k trail lighted for night skiing. The Ski Patrol assists by promoting safe skiing and offering first aid services.
Tubing: Our tubing hill opens 1 hour after our slopes open and starts at the top of every hour. We do recommend reservations as some hours book up. We do not have an age or height limit, we do, however, require each child to ride independently in their own tube… meaning they cannot sit on anyone's lap.
The Escanaba Cross Country Ski Trail, which is just under 7 miles of trails, can be accessed off of Comfort Suite's parking lot or on North 30th Street. Skiers are welcome to utilize the pathway in Ludington Park which loops around the outer perimeter.
Enjoy a great Family Atmosphere at a very affordable price. Our Ski Area offers Downhill Skiing, Snowboarding, Tubing, Snow Shoe Trails, and over 35km of Groomed Nordic Ski Trails. Learn to Ski or Snowboard with our Professional Snow Sports School.
Cross Country Skiing in Battle Creek Area Parks
Cross-country skiing, snowshoeing and winter hiking are available in the City of Battle Creek's park system and are great fun and fitness for winter.
For the best skiing, visit Leila Arboretum at 992 W. Michigan Ave. Battle Creek, MI 49017,

Ice Skating
Enjoy a picturesque, winter tradition and hours of outdoor fun ice-skating at Kensington Metropark. The rink is located at the Orchard Picnic area near the picnic shelter, not far from the sledding hills! There is a small walkway mat from shelter to the rink. The rink is open when ice conditions permit.
Midland City Forest offers wonderful cross country skiing on groomed trails for classic and skate skiing. Trails are designed for skiiers of all levels, from beginner to an advanced 11k loop. A .7 mile beginner trail is lighted from dusk until 8 p.m. every evening. Routes and distances can be obtained by clicking on the map to the right.

From the beginning in 1957 Dorie and Nub Sarns knew that this hill in the great Michigan outdoors was going to be some place special. They cleared the trees and installed a double chairlift, and opened for business. In 1964 the slope "Crazy Otto" opened named after the groomer Otto Washburn.
Established in 1956, Crystal Mountain is a family-owned, four-season resort recognized nationally as one of the Midwest's premier destinations. Located 28 miles southwest of Traverse City, Crystal Mountain offers 58 slopes for downhill skiing and snowboarding, Crystal Mountain Snowsports School, winter

The Rolling Hills Park sledding hill is 275 feet People sledding in length with a large flat area at the bottom and fenced return paths on either side so you can safely climb the hill and ride again. The 70 foot width at the top of the hill is wide enough to spread out and accommodate various levels of thrill seekers.
Muskegon Winter Sports Complex is a place to get the family out and active for the winter. We have ice skating, cross country skiing, snowshoeing, and luge! You can purchase a season family pass and enjoy the outdoor rink all season! Skate rentals also available.
60 downhill runs, our commitment to skiing is every bit as strong as it's always been. When snowboarding came along, we were quick to welcome new generations of riders to the slopes - and to make way for seven terrain parks where skiers and snowboarders alike could catch air and push winter's boundaries.
Snow Snake Ski and Golf has been serving Michigan since 1949. The Brockway family has owned and operated Snow Snake since 1957. There are six lifts serving 10 runs, including numerous terrain features, and a snow tubing park on 43 acres. The ski season runs November through March, weather permitting.
Snowshoeing opportunities are abound in Ontonagon County with thousands of acres of snow covered back country wilderness to explore. Long a popular winter activity in the Upper Peninsula, visitors are finding snowshoeing an excellent way to enjoy winter's splendor in Ontonagon County.
Wolverine Nordic Ski Club volunteers maintain and groom the trail system which consists of 8 trails that provide 25 kilometers of both skate skiing and track-set skiing and 4 marked snowshoe trails. The rolling terrain provides trails for all levels of skiing and snowshoeing from expert to novice.
Join Charlevoix Recreation and Visit Charlevoix and experience the magic of snowshoeing, hiking or cross-country skiing on candle-lit trails. You set your own pace on this self-guided journey. Follow the candlelight to a roaring fire and hot chocolate. The hike will begin at the sledding hill parking lot. The event takes place between 5 - 8 PM.
Saginaw Valley Rail Trail is 9.2-mile trail is a great choice for your year around recreation. The Saginaw Valley Rail Trail always beautiful, but especially so in autumn when fall foliage is reaching peak colors.
Hemlock Crossing offers 239 acres of woods and wetlands along the Pigeon River. Over six miles of trails meander through bottomland and upland forest, old pine plantations and along the river. Trails connect to Pine Bend County Park on the west end of this property. A pedestrian bridge and numerous overlooks offer scenic views.