Celebrate Christmas in Traverse City Region of Michigan
Christmas in Northwest Michigan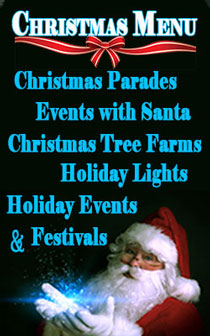 Of course Christmas is the time when we all gather in the local Christmas Tree Farms to pick out the perfect Christmas Tree, enjoy hot chocolate and apple cider while taking a horse drawn sleigh-ride through the woods of Michigan. Enjoy Life, Christmas Life, with Michigan Life!
What to See and Do in Region 9 -Traverse City Area
S & L Arctic K9's Dog Sled Adventure is located just 15 minutes north of Cadillac, Michigan.
We are a recreational sled dog kennel & training site that encourages the practice and growth of sled dog activities through education, training and running sled dogs.
Enjoy autumns fall color traveling north on M-37 Old Center Road up the center of Old Mission Peninsula into Grand Traverse Bay. The route twists and turns over the hills of beautiful terrain and dotted with vineyards finally reaching the peak of the peninsula at Old Mission Lighthouse and State Park at Lake Michigan.
Hickory Hills features 8 runs with 1 beginner, 5 intermediate, and 2 advanced runs that are serviced by 5 rope tows. Night skiing is available on 7 of the runs. Cross country skiers will find 4k of trails with a 1k trail lighted for night skiing. The Ski Patrol assists by promoting safe skiing and offering first aid services.
Tubing: Our tubing hill opens 1 hour after our slopes open and starts at the top of every hour. We do recommend reservations as some hours book up. We do not have an age or height limit, we do, however, require each child to ride independently in their own tube… meaning they cannot sit on anyone's lap.
Caberfae Peaks is conveniently located in Northern Michigan's snowbelt. The resort sits in relatively high elevation and is the perfect distance from Lake Michigan. As a result, the "lake effect" snow machine manufactures an average of 150+ inches of annual snowfall per year!
Snow Tubing at Timberlee Hills is the perfect way to spend the day with your whole family in Traverse City this winter. It's all the fun of sledding – without hiking back up the hill!
Established in 1956, Crystal Mountain is a family-owned, four-season resort recognized nationally as one of the Midwest's premier destinations. Located 28 miles southwest of Traverse City, Crystal Mountain offers 58 slopes for downhill skiing and snowboarding, Crystal Mountain Snowsports School, winter

Step back in time as you take part in one of Michigan's most unique holiday celebrations. An entire weekend of excitement including the Victorian Sleighbell Parade with horse drawn entries, bagpipers, reindeer meet and greet and carolers elegantly dressed in Victorian style attire.
Thanksgiving - New Years Day | Free - Donations Accepted
Sparkle in the Park will create over 50 holiday displays that visitors can drive by or take leisurely walks through with the family.
Bear Lake's Sparkle in the Park | 7727 Hopkins Dr. Bear Lake, MI 49614
Established in 1965, Kalkaska Winterfest is an annual celebration of wintertime activities and the true "up north" spirit. Each year, Kalkaska Winterfest hosts a slew of family-friendly attractions during the weekend-long event.
Beulahs Winterfest is not your normal winterfest, this festival looks for the quirky fun-loving events that you don't find everywhere else. Check out this list of events and attractions you will find:
32 Mile Color Tour starting downtown at the Cadillac City Park parking lot, head East toward Mitchell Street (away from lake) on Cass Street. At Cass/Mitchell traffic light, follow Cass/M-55 East all the way to M-66, approx. 9 miles. Turn left onto M-66 towards Lake City. Follow M-66 thru Lake City, to M-42. Turn left to go East onto M-42.
U – Pick: Opens late June
Corn Maze: Opens in August
Make Jacob's Corn Maze your family fall tradition!
Life sized corn mazes are fun for everyone, young and old alike. Experience our world class computer designed 10 acre corn maze creation, unlike any other in Northern Michigan!
2021 Dates: December 18 - 31, 2021 (Closed Christmas Day)
All aboard! It's time for the annual Festival of Trains, a Traverse City holiday tradition. Come see the massive 0-gauge model train layout along with spectacular HO-, S- and G-gauge layouts. There's a special kids layout, too, where the young (and young-at-heart) may operate the controls.
Think of it as your very own, perfectly charming winery and Old World inn stocked with fine wine and staffed with attentive proprietors whose sole purpose is to provide a space or experience to meet your every need.

U-pick, we-pick dark & lite sweet cherries & tart cherries in July. Fall apple season - 3rd weekend in Sep through October hrs-10 am to 5pm. 15 varieties of apples, honeycrisp, gala, jonagold. Also pears, prunes, pumpkins, squash, gourds. Weekday field trips by appointment.
Villa Mari founder Marty Lagina made the (some would say) crazy choice to grow grapes that shouldn't grow in Michigan, with the belief that he could produce world class wines that otherwise couldn't be made here. So, true to his Italian heritage, he planted exotic varieties like Nebbiolo, Sangiovese and others.
Jan. 25, 2020, 11 a.m.- 5 p.m.
Each January Ice Wine Festival celebrates the unique ability to grow, harvest & produce one of the rarest products in the wine industry, Ice Wine!
Pages