Celebrate Christmas in Grand Rapids, Grand-Haven, and Holland Region of Michigan
Christmas Guide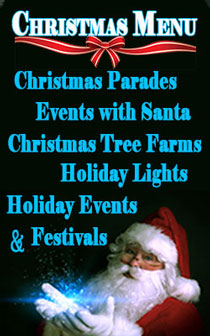 This is the time when we all gather in the local Christmas Tree Farms to pick out the perfect Christmas Tree, enjoy hot chocolate and apple cider while taking a horse drawn sleigh-ride through the woods of Michigan. Enjoy Life, Christmas Life, with Michigan Life!
What to See and Do in Region 4 -Grand Rapids Grand Haven and Holland Area
Grand Rapids Ballet Company, Grand Rapids Symphony and about 100 children fuse their talents to bring the classic story to life. After a sold out world premiere, The Nutcracker, re-imagined by Polar Express author Chris Van Allsburg, returns for two weekends at DeVos Performance Hall.
Tuesday, Nov 30, 2021 at 5:30 PM
Santa Claus arrives in Downtown Holland during the annual Parade of Lights, escorted by 75 floats, trucks, antique cars, walkers and marching bands...all decked out from top to bottom in thousands of sparkling lights! This brightly lit holiday procession is fun for the entire family and a holiday tradition for the entire community!
December 4, 2021 @ 11:00 am - 2:00 pm
The jolly man in the red suit will be making an appearance in the Chamber's Annual Santa Parade. The parade winds through downtown Rockford. The jolly man in the red suit makes Rockford one his first stops on his world tour. More than 60 floats line the downtown streets to welcome Santa Claus.
The Country Mill orchard is the only mid-Michigan cider mill where a family can pick fresh apples, peaches, and blueberries at the same farm. We also offer our own locally grown vegetables such as sweet corn, winter squash, and pumpkins.
Winterfest is a full weekend of winter fun in Grand Haven, Michigan during the last week of January. The snow is upon us, and with Michigan's winters being long and cold, this is a perfect time to get out and be active. There are plenty of activities to keep everyone warm and having a great time.

Tired of battling the mall crowds? Why not bring your child to Rockford to visit Santa – all in the idyllic setting of downtown. Kids can give Santa their wish lists, and enjoy free hot cocoa and cookies!
Enjoy Hayrides at Fun Pumpkins, a pick-your-own pumpkin patch where 30 varieties of pumpkins grow. Pumpkins ready to be carved with faces for jack-o'-lanterns, stewed with spices, baked into pies, or stacked into decorative towers.
Excitement surrounds this time of year as the annual Christmas and Holiday Traditions Around the World brings the glow of 300,000 lights, strolling carolers, horse-drawn carriage rides and more than 40 international trees and displays.
Open from May through October depending on the picking seasons. Ed Dunneback & Girls Farm Market have fruits and vegetables available in season, both already-picked or u-pick.
Nov 24, 2021 – Jan 1, 2022
You don't want to miss the Christmas Nite Lights at Fifth Third Ball Park. West Michigan's largest, animated, drive thru light show, entertaining people of all ages. The event is located at Fifth Third Ballpark, home of the West Michigan Whitecaps, exit 91, off US 131.
Allegan County, Michigan is situated among the rolling farmlands, grasslands, forests, lakes, and streams of the southwestern portion of the Lower Peninsula. It is an area of incredible scenic beauty and historical significance, with many parts of the county existing much as they did 100 years ago.
A festival to benefit Gilda's Club features 200 free and ticketed events at 50-plus locations throughout Grand Rapids. The 10-day festival concludes this weekend and features stand-up, improv, film, authors, community showcases, and more! For a complete list of events, laughfestgr.org.
The Coopersville & Marne Railway Santa Train returns with decorated, heated cabs and a 90-minute round-trip ride. Children can sit with Santa and receive a present, and hear the Storytelling Princess read "The Polar Express." The train, which seats 250 people and has an on-board bathroom, departs from the station in downtown Coopersville
December 4, 2021 at 11am-4pm
A North Pole rumor, that has made it all the way to Saugatuck, indicates that Santa will be making a special appearance! Families can enjoy the return of Santa's Workshop (11am-4pm) at The Annex: 220 Water Street, Saugatuck. There will be photo opportunities with Santa plus kids craft projects, tree decorating, music, refreshments and more!
AJ's Family Fun Center is a family oriented entertainment facility. Attractions include Go-Karts, mini golf and bumper boats as well as laser tag. In addition, there is an arcade game room for all ages.
@GR_Art_Museum
The Grand Rapids Art Museum is an art museum located in Grand Rapids, Michigan with collections ranging from Renaissance to Modern Art and special collections on 19th and 20th-century European and American art.
We are a craft brewery, and our approach is all about style, creativity, diversity, quality, and flavor. We believe there is a beer out there for everyone, order a custom flight and see which ones you like! Or, if you are a frequent guest and you'd like to know more about joining our Mug Club, CLICK HERE!
Jason Lummen pressed the apples at a local farm for his first batch of cider in 2002. After enjoying the success of those initial rounds of five gallon batches Jason purchased his first fifty-gallon fermenter; which his wife welcomed into the kitchen of their one-bedroom apartment in Heartside.
The Zoo is conveniently located at the corner of Fulton and Valley (1300 W. Fulton) just west of downtown Grand Rapids. The Zoo is two miles west of downtown Grand Rapids and there is easy access from the I-196 expressway.
Everyone has an artist inside Brush Studio brings your inner artist out in a fun and created art class with a positive sense of self. You will accomplish something you never thought possible–a fabulous piece of art for that wall in your house that you have created!
Pages