Michigan Christmas Light Displays
The Best Christmas Light Displays in Michigan
One of my families new favorite holiday traditions is to venture out and see the holiday light displays. Some homes are decorated in all white lights that sparkle and light up the night. Others homes and businesses are adorned in reds, greens, blues along with the traditional golds and silver.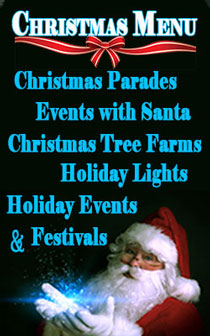 Five Symphony locations in Michigan have a drive-true light displays not only for the joy of their residents but also for the public. The event is free but they do have a mitten tree where you can donate to keep someone warm in a local shelter. See details below for each location. Merry Christmas Michigan!
We turn on our holiday music and yes we even sing along when we are not saying "wow look at that!". Because of that we search the state for the best holiday light displays (and even the locations where we can purchase our own) and share them here. We wish you a Merry Michigan Life!
Christmas Lights and Decorations
Community Christmas Carols and Tree Lighting at Festival Square – 401 N. Main Street, Cheboygan Michigan.

Dec 7, 2020 - Jan 8, 2021
Drive through our calm and colorful campus full of holiday lights. Stay safe and warm in your cars, pack a thermos of hot cocoa, indulge in some candy canes, turn on some holiday music, and look out your windows to experience a dazzling electrical extravaganza.
Featuring new and returning selected artists displaying handmade items created from fiber, wood, metal, clay, glass, mixed media and more. Get your holiday shopping done early! Artist booths are located in Isabel Hall and the C.S. Mott Gallery Wing.
Festival of Trees

Thursday & Friday Dec 12 & 13, 19 & 20, 2019
The Rockford Chamber of Commerce sponsors horse-drawn carriage rides each year so that visitors may enjoy the sights and sounds of the beautifully decorated streets of the downtown area.
Dec 7, 2020 - Jan 8, 2021
Drive through our calm and colorful campus full of holiday lights. Stay safe and warm in your cars, pack a thermos of hot cocoa, indulge in some candy canes, turn on some holiday music, and look out your windows to experience a dazzling electrical extravaganza.
The Community Tree Lighting ceremony always takes place on the first Friday of December. The St. Joseph High School Choir begins Christmas carols near the tree located at the corner of Broad and Lake Boulevard, St Joseph Michigan at 6 p.m. with the ceremony taking place at 6:30 p.m.
Come celebrate 101 years of a magical tradition in downtown Harbor Springs at the Christmas Tree Lighting. This is one of the most unforgettable ways to start off the holiday season!
November 20, 2020 - Cancelled
Immediately following the Northville Christmas Parade is a Tree Lighting Ceremony & Singalong, join in the fun while welcoming in the holidays.
Awesome night in Lexington. Does not get anymore Americana than this night.
Santa, chestnuts, tree lighting, carols. A great way to kick off the holiday.
Bundle up the family and come stroll through the Kellogg Park Walk of Trees. See 75 trees, each decorated by a local family, club or business.
It's free, it's fun and it's healthy! Trees are lit 24 hours from the Saturday after Thanksgiving through Christmas. Where: Kellogg Park Downtown Plymouth. Make it a new family tradition.
Friday November 22, 2019 5:00 PM - 8:00 PM
Join us for our Annual Luminary Festival! Stroll through the beautiful candlelit streets as 1,000 luminaries light your way as you shop in downtown St. Joseph.
November 20, 2020 through January 3, 2021
Experience the magic of the Detroit Zoo in winter as you take in the lights and the sights and enjoy holiday entertainment and activities for guests of all ages. More than five million LED lights will illuminate trees, buildings and more than 100 animal sculptures throughout the front of the Zoo.
November 16 – December 31, 2019
Creating holiday magic for a brighter world is what Battle Creek's International Festival of Lights is all about. Once again, this traditional festival of lights will return in all its splendor and beauty to delight visitors from both near and far.
November 19, 2021 from 6-8 p.m.
Festivities in Lansing start with the Annual Silver Bells in the City always the Friday before Thanksgiving. The Silver Bells in the City is scheduled in downtown Lansing. in downtown Lansing. The lighting of Michigan's official state Christmas tree will take place just after 7:30 p.m.
Come out to see the Holiday Lights at Shawhaven Farm. Ride past a beautiful Hanukah lights display, continue through the streets of the village all decorated up in the holiday spirit. See Santa coming down the chimney. Watch the animated light show to the music of the holidays.
2020 Dates: 11/25/20 - 12/31/20
(Closed Christmas Day)
While it may be a little different this year, the Wayne County Lightfest will be taking place in 2020!
The Lightfest's magical 4.5 mile drive through holiday light display is a tradition for families all over Metro Detroit. There are new displays this year along with 45 other animated themed displays.
MIDDLE OF NOVEMBER - JANUARY 3, 2021
You are invited to brighten your holidays in downtown Rochester with The Big, Bright Light Show! The buildings in downtown Rochester will be covered with more than 1 million points of glimmering holiday light.

November 27 - December 27, 2020
Thur - Sun | 6 pm – 9 pm
Marshall's Merry Mile is a spectacular light display is an annual family tradition.
At the Calhoun County Fairgrounds in Marshall. Bring the whole family to enjoy the holiday lights this Christmas. All proceeds will go to the Calhoun County Fairgrounds see website to pricing.
Tree Lighting: Fri, Nov 20, 2020 5:00pm - 6:30pm
Parade: Sat, Nov 21, 2020 10:00am - 12:00pm
Wyandotte Michigan knows how to put on a holiday party. The Parade route begins at Northline near the Police/Court Building and ends at Eureka Avenue. The parade begins at 10 am and usually runs approximately one hour.
Friday, Nov 20, 2020 – Sunday, Nov 22, 2020 7:00pm
The Downtown Rochester Festival of Trees is a holiday spectacular unlike any other, featuring trees, wreaths, stockings, tablescapes, centerpieces and Gingerbread Houses designed and donated by the Metro Detroit community.
Pages