Christmas Parades in Michigan
Christmas is a magical time in Michigan, each year we look forward to all of the holiday events including our local Christmas parade. Join the fun and festivities by singing along with the marching band that plays your favorite holiday song. Enjoy the festive holiday lights in red & green, gold & silver and the holiday Christmas poinsettia and holly berries decorating the season, finally watch the smiles on the children faces as Jolly Ole' St. Nick (and sometimes Mrs. Claus) arrive leaving the kids anticipating Christmas morning. Enjoy the holiday life, Michigan Life!
Best of the Holidays
Tune up your jingle bells and get out the sleds! It's time to celebrate the holidays the way only a Michigan city can do with a spectacular Christmas Parade. From the rural small towns to cities Michigan Parades include visits from Santa and Mrs. Claus some even include the reindeer and sleigh rides.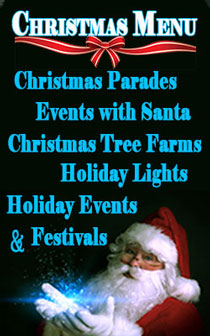 Christmas Parades
November 20, 2020 - Cancelled
The Annual Northville Hometown Holiday is a festive community celebration that kicks off the holiday season. The season begins near middle November with the Holiday Lighted parade followed by the ceremonial lighting of the Christmas tree in Town Square.
White Lake Area Christmas Parade with over 50 participants will line up and follow the parade route from Whitehall to Montague along Business 31/Colby Street. The American Legion and VFW will lead the event dressed in their finest, along with our proud Christmas Parade Title Sponsor, Shepherd & Shepherd Law, The parade begins at 2pm.

Celebrate the magic of the holiday season at the fifth annual 'Winter Snow Fun' Holiday Parade in Marquette's Downtown District. Bundle up with friends and family as illuminated floats, tinsel-strewn trucks and colorful carolers transform Third Street into a magical scene from the North Pole.
December 12th, 2020. Parade starts at 2:00pm
The Annual Old Fashioned Christmas Horse Parade, and is right out from the pages of a Victorian Christmas.... Go back in time and experience the pageantry and beauty of horses and equestrians dressed in the their holiday finest in Lexington's Christmas Horse Parade!
Celebrate the magic of the holiday season at the Annual 'Winter Snow Fun' Holiday Parade and Annual City of Marquette Tree Lighting. Bundle up with friends and family as illuminated floats, tinsel-strewn trucks and colorful carolers transform Third Street into a magical scene from the North Pole.
Step back in time as you take part in one of Michigan's most unique holiday celebrations. An entire weekend of excitement including the Victorian Sleighbell Parade with horse drawn entries, bagpipers, reindeer meet and greet and carolers elegantly dressed in Victorian style attire.
To ensure that this year's event is bigger and better than ever, the Saugatuck Douglas Area Convention & Visitors Bureau is putting out an open invitation to any local businesses or groups who might be interested in participating in this year's Christmas Parade!

Dec 12, 2020 | 9AM - 7 PM
This years Ice Shack parade theme is "A Christmas Story".
A Crystal Christmas takes place on the the 2nd Saturday of December and boasts an Ice Shack parade of hilarious Northwoods themed floats!
Events will take place throughout the town. Below is a tentative schedule of event. More will be added as we get closer to the date.
The Parade of Lights returns to Downtown Holland!

Santa Is Coming and will arrive in Gaylord for the Santa Light Parade in downtown Gaylord. Activities under the pavilion on court start at 5:30pm Hot chocolate, coffee, food, photo booth, live music,kids activities, sleigh rides, and more!!!
Remember to bring your cameras!!
There is something for everyone at the popular annual Winter Glow event – East Lansing's free, outdoor winter festival in downtown East Lansing with a wide variety of fun-filled seasonal activities.

The Annual Holiday Light Parade is presented annually by the Williamston Area Chamber of Commerce, thousands of people come out every year to enjoy the parade and visit with Santa and Mrs. Claus. The parade will go east on Grand River Avenue, and continue to Taylor. The floats will be judges in seven categories, including Spirit of Christmas.
The Harbor Beach Annual Lighted Christmas Parade will travel from City Hall east down State Street to the light and then south on Huron Avenue to Trescott Street. Join Harbor Beach for this festive occasion!
Sat. December 05, 2020 | 3:00pm
Come on down to St. Joseph, Michigan, for a fantastic way to kick off the holiday season. The annual Reindog Holiday Parade features dressed up pets and their owners in a variety of holiday garb. Be prepared to see all kinds of costumes from "Santa Bernards" to "Reindeer Rotweilers" - this is definitely a must-see event.
The 2020 Festival of Lights...has been cancelled this year.
The first weekend in December we hold our annual Festival of is Grass Lakes annual Christmas Festival of Lights. Enjoy breakfast with Santa; carriage rides to the Coe House Museum. The Coe House is open and decked out for the season. The United Methodist Church has their annual craft and bake sale, Santa makes a visit to the Depot.
November 20 from 6-8 p.m.
Festivities in Lansing start with the Annual Silver Bells in the City always the Friday before Thanksgiving. The Silver Bells in the City is scheduled in downtown Lansing. in downtown Lansing. The lighting of Michigan's official state Christmas tree will take place just after 7:30 p.m.
The jolly man in the red suit will be making an appearance in the Chamber's Annual Santa Parade. The parade winds through downtown Rockford. The jolly man in the red suit makes Rockford one his first stops on his world tour. More than 60 floats line the downtown streets to welcome Santa Claus.
Kalamazoo Holiday Parade is full of beautiful floats, marching bands and even Santa Clause will wind through downtown Kalamazoo. The parade is a yearly tradition. Organizations, businesses, schools and colleges participate by hosting holiday community floats, marching bands, clowns, and other entertainment.
The Laingsburg annual Winterfest Celebration! Winterfest is a wonderful opportunity to enjoy many memorable activities with our families and friends.
America's Thanksgiving Parade® presented by Art Van, one of the country's oldest and most celebrated Parades, will step off at 9:00 a.m. on Woodward Avenue and Kirby and end at Woodward Avenue and Congress. Hundreds of thousands of parade-goers will be watching as the Parade makes its way down Woodward Avenue.
Pages