Michigan Christmas Parades
Christmas is a magical time in Michigan, each year we look forward to all of the holiday events including our local Christmas parade. Join the fun and festivities by singing along with the marching band that plays your favorite holiday song. Enjoy the festive holiday lights in red & green, gold & silver and the holiday Christmas poinsettia and holly berries decorating the season, finally watch the smiles on the children faces as Jolly Ole' St. Nick (and sometimes Mrs. Claus) arrive leaving the kids anticipating Christmas morning. Enjoy the holiday life, Michigan Life!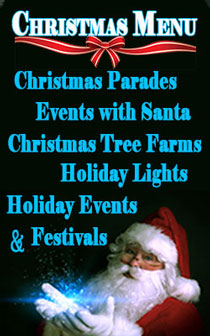 Saturday, Nov 18, 2023 at 11 AM
Kalamazoo Holiday Parade is full of beautiful floats, marching bands and even Santa Clause will wind through downtown Kalamazoo. The parade is a yearly tradition. Organizations, businesses, schools and colleges participate by hosting holiday community floats, marching bands, clowns, and other entertainment.
America's Thanksgiving Parade® presented by Art Van, one of the country's oldest and most celebrated Parades, will step off at 9:00 a.m. on Woodward Avenue and Kirby and end at Woodward Avenue and Congress. Hundreds of thousands of parade-goers will be watching as the Parade makes its way down Woodward Avenue.
Saturday, November 17, 2023 at 6:30pm
The Annual Northville Hometown Holiday is a festive community celebration that kicks off the holiday season. The season begins near middle November with the Holiday Lighted parade followed by the ceremonial lighting of the Christmas tree in Town Square.
Thursday, December 8, 2022
Parade starts at 6:00 p.m.; Tree Lighting to follow.
Celebrate the magic of the holiday season at the fifth annual 'Winter Snow Fun' Holiday Parade in Marquette's Downtown District. Bundle up with friends and family as illuminated floats, tinsel-strewn trucks and colorful carolers transform Third Street into a magical scene from the North Pole.
Thursday, December 8, 2022 6:00 PM 8:00 PM
Celebrate the magic of the holiday season at the Annual 'Winter Snow Fun' Holiday Parade and Annual City of Marquette Tree Lighting. Bundle up with friends and family as illuminated floats, tinsel-strewn trucks and colorful carolers transform Third Street into a magical scene from the North Pole.
12:30 - Saugatuck Holiday Parade lineup in front of Wicks Park
1:00 Holiday Parade begins
3:00-5:00 - Santas Workshop in the Puddingstone classroom - Decorate Cookies with Santas Elves (The Saugatuck High School Culinary Arts Club) Cookies and supplies provided by New Holland Brewing.
Tuesday, Nov 29, 2022 at 6:30 PM
Santa Claus arrives in Downtown Holland during the annual Parade of Lights, escorted by 75 floats, trucks, antique cars, walkers and marching bands...all decked out from top to bottom in thousands of sparkling lights! This brightly lit holiday procession is fun for the entire family and a holiday tradition for the entire community!
Friday, November 25, 2022 at 6 PM
Santa Is Coming and will arrive in Gaylord for the Santa Light Parade in downtown Gaylord. Activities under the pavilion on court start at 5:30pm Hot chocolate, coffee, food, photo booth, live music,kids activities, sleigh rides, and more!!!
Remember to bring your cameras!!
Saturday, December 10, 2022 11 AM - 2 PM
There is something for everyone at the popular annual Winter Glow event – East Lansing's free, outdoor winter festival in downtown East Lansing with a wide variety of fun-filled seasonal activities.
The Annual Holiday Light Parade is presented annually by the Williamston Area Chamber of Commerce, thousands of people come out every year to enjoy the parade and visit with Santa Claus. The parade will go east on Grand River Avenue, and continue to Taylor.
Saturday, December 3, 2022 5:30 PM 6:30 PM
The Harbor Beach Annual Lighted Christmas Parade will travel from City Hall east down State Street to the light and then south on Huron Avenue to Trescott Street. Join Harbor Beach for this festive occasion!
Sat. December 03, 2022 | 3:00pm
The annual Reindog Holiday parade is a great time for all. This event features dressed up pets and their owners in a variety of holiday garb. Be prepared to see all kinds of costumes from "Santa Bernards" to "Reindeer Rottweilers" – definitely a must-see event! The event also marks the arrival of Santa.
The first weekend in December we hold our annual Christmas Festival of Lights. Enjoy breakfast with Santa then watch as he arrives at the Depot on a firetruck! Go on a Cookie Tour all around the Village. There is also a Winter

Friday, November 18, 2022 from 5-9:00 PM.
Festivities in Lansing start with the Annual Silver Bells in the City always the Friday before Thanksgiving. The Silver Bells in the City is scheduled in downtown Lansing. in downtown Lansing. The lighting of Michigan's official state Christmas tree will take place just after 7:30 p.m.
December 3, 2022 @ 11:00 am - 2:00 pm
The jolly man in the red suit will be making an appearance in the Chamber's Annual Santa Parade. The parade winds through downtown Rockford. The jolly man in the red suit makes Rockford one his first stops on his world tour. More than 60 floats line the downtown streets to welcome Santa Claus.
The Laingsburg annual Winterfest Celebration! Winterfest is a wonderful opportunity to enjoy many memorable activities with our families and friends.
Saturday December 3, 2022
Christmas in Lights in Iron River is the first Saturday of December and features a lighted parade of more than 30 floats carrying 1000's of lights followed by a stellar fireworks show.
Bring the family to enjoy the largest Christmas parade in Michigan. The parade will include floats, bands and of course, Santa Claus. For more information, call the Chamber of Commerce at 248-651-6700.
Santa's comin' to town! Join us for the Annual Christmas Parade in downtown Montague and Whitehall. The American Legion and VFW will lead the event, along with our generous Title Sponsor, Shepherd & Shepherd Law.
December 10th, 2022. Parade starts at 2:00pm
The Annual Old Fashioned Christmas Horse Parade, and is right out from the pages of a Victorian Christmas.... Go back in time and experience the pageantry and beauty of horses and equestrians dressed in the their holiday finest in Lexington's Christmas Horse Parade!
Step back in time as you take part in one of Michigan's most unique holiday celebrations. An entire weekend of excitement including the Victorian Sleighbell Parade with horse drawn entries, bagpipers, reindeer meet and greet and carolers elegantly dressed in Victorian style attire.
A Crystal Christmas takes place on the the 2nd Saturday of December and boasts an Ice Shack parade of hilarious Northwoods themed floats!
This years theme "WINTER WONDERLAND". There will be business and residential decorating contest, Santa Claus, Fireworks and More!

Family fun tradition since 1980! Kick off your holiday season with the Fantasy of Lights! Enjoy local dining and shopping, meet Santa and his reindeer and watch one of the longest running holiday parades in the area!
Wyandotte Michigan knows how to put on a holiday party. The Parade route begins at Northline near the Police/Court Building and ends at Eureka Avenue. The parade begins at 10 am and usually runs approximately one hour.
Pages